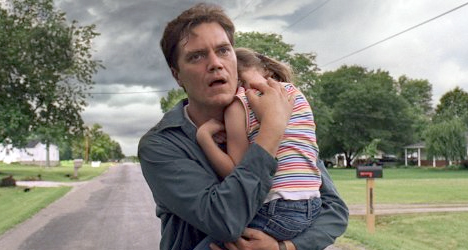 Sixty-something days after the damn thing ended, I'm finally getting around to throwing some thoughts together about Fantastic Fest 2011. This is because (a) I miss Austin, (b) I finally found the keys to my Tumblr account (they fell behind the sofa!), and (c) in a few weeks I'm going to do my annual fourth annual 10 Movies Released Last Year I Really Liked post (TM Liz Shannon Miller) and it's going to feel a wee bit redundant. (Years 2008, 2009 and 2010 here.)
So without further ado and in no particular order…
Take Shelter (in theaters now) may not be the best film of the year but it is the one that best captures the year's zeitgeist. If a century from now our children's children's children want to know what 2011 felt like, they need look no further than this movie. Curtis (played by a mesmerizing Michael Shannon) has the American dream - a lovely wife (played by the equally great Jessica Chastain), a deaf but happy young daughter, a reliable blue collar construction job and a modest home of his own. But it all starts to slip through his fingers when Curtis is visited by apocalyptic visions that may predict real disaster or may just be symptoms of mental illness. Economic anxiety, mental breakdown, natural disaster, and biblical apocalypse add up to a horror film unlike any other. 
Livid (opens December 7…in France, no US distribution yet) is one that disappointed many but pleased me. Fans of filmmakers Alexandre Bustillo and Julien Maury's first film, Inside, were no doubt expecting something visceral and violent. Instead, they got an atmospheric dark fable that feels like a Gallic Guillermo del Toro. Calibrate your expectations accordingly and you too might dig this entirely new take on the haunted house genre, notable for its stunning visuals and strong female characters.
Headhunters (no US release date, but Summit is working on a remake) is a tense heist movie, a violent cat-and-mouse thriller, a surprisingly touching romance, a social-political satire and, best of all, a damn entertaining ride. Aksel is top-level executive recruiter by day and an art thief by night, damn good at both. He has to be in order to afford the lavish lifestyle he needs to keep his tall, supermodel-gorgeous wife happy. Aksel's world is turned upside-down when he runs afoul of a ruthless executive (played by Game of Throne's Nikolaj Coster-Waldau) with a violent past and a hidden agenda. 
Juan of the Dead (unreleased and as yet unauthorized by the Cuban film board) was the happiest surprise of FF2011. I found myself in the midnight screening more by default than active choice, only to discover a really smart, truly subversive, uniquely Cuban and wholly successful take on the zombie/horror/comedy genre. Fingers crossed that this one reaches more than just the festival circuit.
Those four were my favorites. There were others, both good (A Lonely Place to Die, Penumbra, Kill Me Please, several good shorts) and not as good (The Corridor, Last Screening, Two Eyes Staring). But I would be remiss if I didn't mention The Human Centipede Two (Full Sequence). Did I like it? Let's just say I appreciated it. If you enjoyed the first one but wish it had gone further, this is the film for you. If the very idea of the first one was enough to make you ill, avoid this at all costs. You have been warned.
Three other films that would have easily made this list except that I saw them before or after Austin were Pedro Almodovar's unsettlingThe Skin I Live In, Lars von Trier's audacious Melancholia and Ti West'sThe Innkeepers. West's bait-and-switch workplace comedy has grown on me over time: though I still think it's a flawed film, I really like what West is trying to do with the genre. The last ten minutes were as terrifying as any horror film I've seen all year. 
Of course, one could make a pretty compelling "best of" list out of the movies I didn't see but still want to: A Boy and His Samurai, Extraterrestrial, Sleep Tight, We Need to Talk About Kevin, and You're Next.
All in all, the mix of films I saw was not as spectacular as FF2010 but still engaging enough to make me eager to return for FF2012.